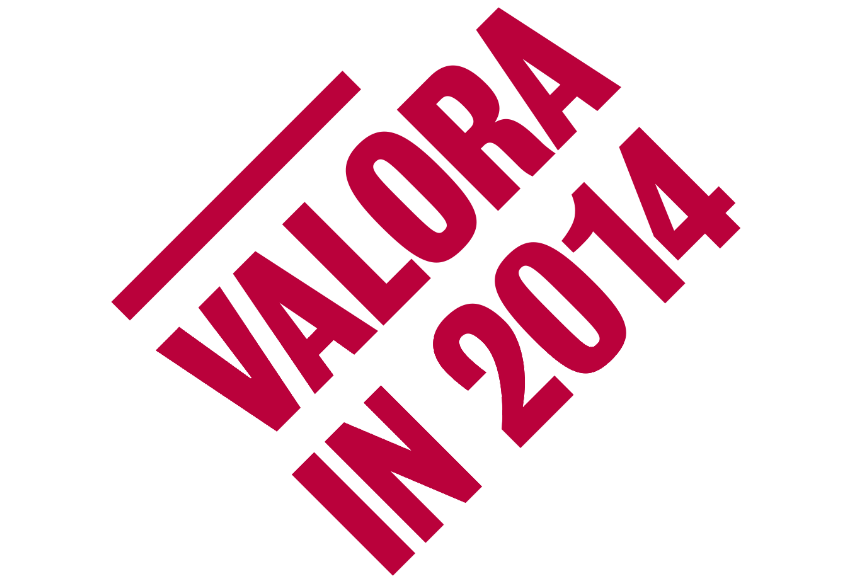 MARCH 2014
PRESS & BOOKS
NEW FLAGSHIP STORE OPENS AT ZURICH AIRPORT
March sees the opening of a shining new Press & Books store at Zurich airport. The store's 100 m2 of floorspace offers newspapers and magazines, business publications, best-selling books and first-class entertainment for young and old alike. Including this new flagship venue, the Valora Group now operates four Press & Books stores, fourteen k kiosks, one Spettacolo and one Brezelkönig outlet at Zurich airport. This is a major step for the largest small-outlet retailer in German-speaking Europe, and by no means the last store opening for 2014.
MARCH 2014
DITSCH/BREZELKÖNIG
NEW STORE DESIGN ENTHUSIASTICALLY WELCOMED BY CUSTOMERS
On March 6, 2014, the Ditsch team have a new milestone in their history to celebrate, as the company opens its 200th branch – at Berlin's Ostbahnhof railway station. To meet growing competition in the snack market, Ditsch has introduced a new store design. Key features of this Ditsch store of the future include a menu board, improved product presentation, and an inviting, well contrasted choice of colours and materials. The new store design attracts very positive customer reactions.
April 2014
Valora
CHANGES IN THE TOP ECHELONS OF THE COMPANY
Michael Mueller (CEO) and Tobias Knechtle (CFO) take up their new positions at Valora in early 2104. In April, Thomas Eisele, the Managing Director of Ditsch/Brezelkönig, is nominated as a member of Group Executive Management. In late 2014, Roberto Fedele is named Valora's new Chief Information Officer (CIO), with responsibility for all Group IT matters. After six years in office, Conrad Löffel decides not to stand for re-election to Valora's Board of Directors at the 2014 General Meeting of Shareholders. Cornelia Ritz Bossicard is elected to take his place on the Board.
April 2014
Ditsch/Brezelkönig
BREZELBÄCKEREI DITSCH RECEIVES DLG AWARD FOR LONGSTANDING PRODUCT QUALITY
Germany's Deutsche Landwirtschafts- Gesellschaft (DLG) (in English, «German Agricultural Society») grants Ditsch its longstanding product-quality award. This is the 14th time Ditsch's products have been recognised in this way. That is a clear indication of their excellent quality, which is now appreciated around the world. In addition to selling its products at its own outlets in Switzerland and Germany, the Ditsch/ Brezelkönig group also exports them to around 30 countries, including the United States.
JUNE 2014
k kiosk
VALORA UNVEILS SWITZERLAND'S LARGEST DIGITAL SIGNAGE NETWORK
During the first six months of 2014, nearly 900 k kiosk outlets are equipped with new electronic screens, thus creating the largest digital signage network in Switzerland. These screens will serve as modern advertising platforms. They make product advertising at the point of sale highly efficient.
JULY 2014
Valora
VALORA GERMANY WELCOMES ITS 300TH FRANCHISEE
Valora actively promotes partnership-based business models at its retail outlets in all the countries where it operates. Both agency and franchise models are used. In either case, the focus is on working together to develop the formats. This a popular approach, as the constantly growing network of agency and franchise outlets demonstrates. In Germany, July sees the 300th franchisee embark on a career alongside Valora. By year-end 2014, 390 k kiosks in Switzerland were managed by 168 agent partners. Currently, just over 1600 retail outlets are operated on an agency or franchise basis.
August 2014
Valora
PRESS WHOLESALING BUSINESS SUCCESSFULLY SOLD
In August, Valora successfully completed divestment of its Services division, with the Group's press-wholesaling and logistics business being purchased by Thomas Kirschner (PVG). The transaction provides an ideal and sustainable industry solution, under which Valora's retail outlets in Switzerland and Luxembourg will in future be supplied by PVG. In addition to marking Valora's departure from its original business, this transaction is also a significant milestone in the Group's transformation into a focused retail company.
August 2014
ok.–
AS WHITE FOLLOWS BLACK, SO VISA FOLLOWS MASTERCARD
ok.– and Cornèrcard jointly launch the ok.– prepaid Visa card. The universally accepted ok.– prepaid Visa card provides customers with a safe, simple and efficient way of paying for their purchases in shops and online. The new prepaid card, with its distinctive white design, complements the successful ok.– prepaid Master- Card, which is black. The new cards have been available at k kiosks and Press & Books stores since August and can be credited with a maximum of CHF 2500 each year. Valora will systematically expand the range of services it offers. The MoneyGram funds- transfer service is also performing well, with large numbers of customers now using it on a regular basis.
August 2014
k kiosk
K KIOSK CELEBRATES ITS 80TH BIRTHDAY
k kiosk turns 80 in 2014. Working with Dealini, k kiosk launches a special new prize game, in which virtual, online elements are intriguingly combined with physical components. Dubbed «GRAB THOSE MONSTER DEALS», the game is the first of its kind in Swiss retail, including both classic stickers and collection albums, as well as a mobile app and a dedicated website. In addition to the fun to be had collecting stickers for those monster deals, Valora is also offering free prizes and price discounts to its loyal customers. These are worth more than CHF 80 million and have been sponsored by some 80 brand partners. The anniversary extravaganza is enthusiastically received by customers and brand partners alike. By the time the campaign ends, 10.5 million sticker sachets and 239 449 sticker albums have been snapped up, while the smartphone app has been downloaded more than 45 000 times, and 220 000 instant prizes have been claimed. At 80 years of age, the k kiosk brand is as lively as ever.
September 2014
k kiosk
MODERNISING THE K KIOSK NETWORK
After 111 upgrades and new openings in 2013, k kiosk is opening 91 new outlets in 2014 and modernising another 9. The product ranges on sale at a further 230 k kiosks will also be modified. As a result, roughly half of the entire k kiosk network will have been modernised in the last two years. Greater emphasis is now being placed on food and service offerings, enabling the k kiosk format to adapt to the evolving needs of its customers. Total sandwich sales now exceed 1.5 million. There is a further major development for Valora at the new Löwenstrasse section of Zurich's main railway station, which opens to the public in June to reveal six new Valora outlets – two k kiosks, one avec., one Spettacolo, one Spettacolino and one LE CROBAG. Thanks to these additional outlets in the new Löwenstrasse section, Valora will now be even better represented at Zurich's main station.
November 2014
ok.–
THE OK.– SUCCESS STORY CONTINUES
«I'm orange, BTW. And you?» That's the tagline in the new ok.– energy drink orange advertising campaign. Launched at the end of 2014, this latest addition to the ok.– family brings an eventful and innovative year to a fitting close. The ok.– energy drink innovations for 2014 began in the spring with ok.– energy drink spring-break, followed by ok.– energy drink classic limited edition, with its special appeal to music aficionados, and then the heartthumping new ok.– cola energy. Throughout the year, the ok.– community thus had something new to talk about. As to 2015, all we can say is that the innovation pipeline is full again!
November 2014
Valora
VALORA ACQUIRES NAVILLE IN FRENCH-SPEAKING SWITZERLAND
Thanks to its acquisition of Naville and its outlets in French-speaking Switzerland, Valora now has a nationwide network in Switzerland. The Naville outlets are located at attractive, heavily frequented sites, thus ideally complementing Valora's existing portfolio. Naville's logistics platform is the leading operation of its kind in French-speaking Switzerland and is very well positioned in the market. As the two companies operate comparable business models, there are considerable synergies between them as well as scope for growth. Over the next few years, the priority will be to make the most of these opportunities. Combining the best features of both companies will generate sustainable value for Valora, its customers and its business partners. The transaction lends further strength to Valora's position as a small outlet retailer.
November 2014
Press & Books
PRESSBOOKS.CH NOW HAS 555 COLLECTION POINTS
Order a book, have it delivered to a shop nearby and pay for it there. Press & Books has been offering that service through its dedicated pressbooks. ch website for years. Whereas books previously had to be collected at the 32 Press & Books stores, since late 2014 customers have been able to choose from more than 555 possible collection points, as books are now also delivered to more than 500 k kiosks. The k kiosks offering this service are located throughout Switzerland, with an emphasis on rural areas. A network this large, with 555+ possible collection points, is unique in Switzerland – and it is not limited to Press & Books book orders. Valora also works with other online retailers. In 2014, Valora outlets handled a total of 280 000 packages.
DECEMBER 2014
Ditsch/Brezelkönig
PRETZELS REMAIN VERY MUCH IN DEMAND
In 2014, Ditsch and Brezelkönig produced more than 500 million pretzels at their baking plants. A large proportion of these were sold in their own Ditsch and Brezelkönig outlets. At year-end 2014, the network comprised 247 outlets, 207 in Germany and 40 in Switzerland. That is eleven more than a year earlier. This success is partly due to the innovations being developed at the plants in Mainz, Oranienbaum and Emmenbrücke, which then go on to conquer customers' hearts. The latest creation is the sweet pretzel, comprising regular salty lye-bread, which is then coated in a cocoa icing with crunchy cornflakes to create the ideal combination of sweet and salty taste experiences.
DECEMBER 2014
Valora
COOPERATION WITH DEALINI
In late 2014, Valora announces that it has acquired a stake in Dealini, an innovative social-commerce agency specialising in combined online and offline marketing solutions. The scope of the transaction also encompasses a long-term strategic cooperation agreement between the two companies. The first results of this should manifest themselves in 2015. The objective is to harness growing online retail volumes and use them to generate new offerings and activities at physical retail outlets.
2015
Valora
VALORA TRADE RECLASSIFIED
Following the sale of its Services division, the Valora Group's transformation process continues. Based on a strategic review of the Trade division as of year-end 2014, this business area has now been classified in the «held for sale» category. The Board of Directors' decision to exit the Trade business will enable the division to find growth opportunities outside the Valora Group. Once this step has been carried out, Valora's future operating-profit results will relate exclusively to its Retail and Ditsch/Brezelkönig businesses.
2015
Ditsch/Brezelkönig
BREZELKÖNIG AUSTRIA
Brezelkönig, the successful fresh bakery concept from Switzerland, and its German sister format Ditsch, will soon have a new Austrian sibling. In May 2015, the opening of a new Brezelkönig branch in Vienna will mark the beginning of the international expansion of this popular format and its freshly baked products. From early till late, customers will be able to enjoy fresh premium pretzels and sandwiches of the highest quality, baked and prepared on the premises. The Vienna Brezelkönig outlet will sport different colours than its two sibling formats. The logo has also been freshened up for the Austrian and international market. Brezelkönig Austria will provide a new experience for all five senses.