Sustainable
Development
Goals
Ecofriendly and Fair Products
Valora's greatest sustainability lever is product selection in the sales outlets. This is due to the major ecological and social impact of the production, processing and delivery of raw materials. Valora wants to make ecological and fair products tasty for its customers without preaching to them. An attractive vegan offering, for example, reduces demand for animal products and the effects of animal husbandry and feed production. In addition, recognised labels and minimum criteria reduce negative environmental and social purchase-related impacts. Product development, category management and purchasing are equally responsible for the attractive range of ecological and fair products. Valora has the most direct influence over its own products and own brands.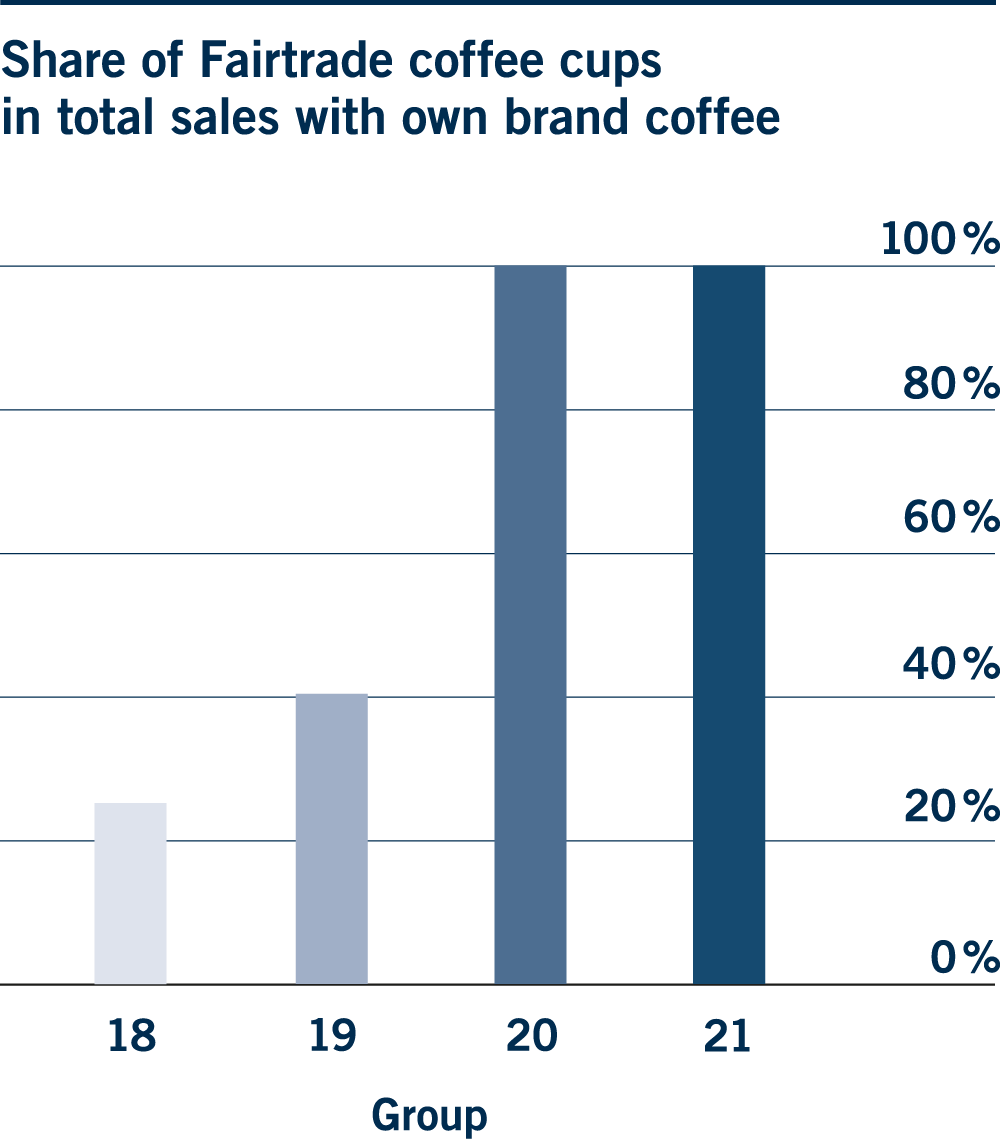 Valora uses 100 % Fairtrade beans for all its own brand coffee, benefiting around 2000 smallholders. The Food Service formats in particular have also integrated sustainability aspects into product development: they experiment with alternative ingredients and consistently offer vegan options. In the non-food area, Valora sets standards with minimum requirements for the production of the ok.– umbrella and the launch of the umbrella-to-rent. Nevertheless, changes such as minimum requirements in the supply chain pose a challenge – especially for products from the Global South.
New due diligence regulations related to human rights in supply chains set additional minimum requirements and necessitate closer cooperation with suppliers. Valora will accordingly develop specific management approaches in 2022 with its various business units. It will also continue to incorporate sustainable products in the design range and pay particular attention to the vegan range.
Fairtrade coffee – the Fairtrade label protects smallholder cooperatives against market price fluctuations by setting a minimum price and ensures fair working conditions.
100 % Fairtrade beans are used for all own brand coffee (corresponds to almost all coffee sales across the Group*).
Changeover to Fairtrade coffee at Back-Factory, the food service system acquired in 2021, in mid-2022.
Barn or free-range eggs – there is a commitment to the organisation The Humane League to only offer products with eggs if they are made exclusively with free-range or barn eggs.
Product streamlining at Back-Factory after takeover. Obligation met in full since 2020.
Continue to meet obligation in full.
Labels – the use of fish with an MSC label ensures sustainable fishing and prevents oceans from being overfished. The organic label stipulates minimum requirements in areas such as fertilisers, crop protection and ingredients.
MSC certification of all Brezelkönig and Caffè Spettacolo sales outlets in Switzerland renewed. Introduction of an organic apple drink (Apfelschorle) under the ok.– own brand. Dedicated organic shelf in several sales outlets in French-speaking Switzerland.
Switch to exclusively Fairtrade bananas at Retail Switzerland. Review feasibility of converting ok.– nuts to Fairtrade.
Sharing models – a proprietary sharing platform enables products to be hired for a fee, including return to the preferred sales outlet.
3 119 loans of a sustainably produced umbrella from the Swiss retail network. Continued rental of Chimpy power banks for charging mobile phones.
Intensification of marketing measures for the umbrella-to-rent.
Vegan and vegetarian selection – an attractive vegan and vegetarian selection makes it easier for customers to avoid animal products. The needs of customers are thus satisfied, and, at the same time, negative ecological effects of animal husbandry and feed production are avoided.
Wide range at Caffè Spettacolo and BackWerk; naturally vegan unfilled pretzels at Brezelkönig and Ditsch; various creations with meat substitutes at Brezelkönig. Switching the ok.– goodies to a vegan recipe. Participation in Veganuary with avec, Brezelkönig and Caffè Spettacolo. Expansion of meat-free sandwiches and salads on offer at Retail.
Expansion of participation in the Veganuary campaign to Ditsch. Addition of new products at avec in Switzerland during the campaign. Further expansion of the vegan and vegetarian offering in retail formats.
ok.– umbrella – Valora sets minimum production requirements and is developing a more sustainable version of the bestseller.
Valora requires standardised audits (according to amfori BSCI) of umbrella manufacturers.
Introduction of a more sustainable version of the ok.– umbrella made of recycled plastic with PFC-free water repellent.
Supply chain management – Valora anchors sustainability among its suppliers in the Valora Business Partner Code of Conduct and requires evidence of standardised audits for products from Asia. Further criteria are incorporated into purchasing decisions and supply relationships on the basis of a risk-based approach.
Performance of a footprint analysis to identify the ecological and social hotspots in the supply chain. Launch of a target-setting process to reduce climate risks in the supply chain. The Business Partner Code of Conduct is a contractual component of larger new contracts.
Gap analysis of new legislation in the EU and Switzerland. Development of the management approach and minimum criteria. Intensified cooperation with suppliers regarding environmental and social risks.
* Starbucks uses its own C.A.F.É. standards to ensure social and ecological cultivation conditions. The Starbucks coffee shops in some retail outlets therefore do not have a Fairtrade label. Back-Factory is not yet part of the survey.
Sustainable
Development
Goals
Valora wants to offer its customers the opportunity to satisfy their hunger with healthy products – even if tobacco and sugary beverages are a lucrative part of its range. Valora determines its own recipes in the Food Service area and can offer products promoting well-balanced nutrition. In the retail business, the main lever lies in the selection of products, i.e. in category management. In pretzel production, product development and quality management for food safety are key factors.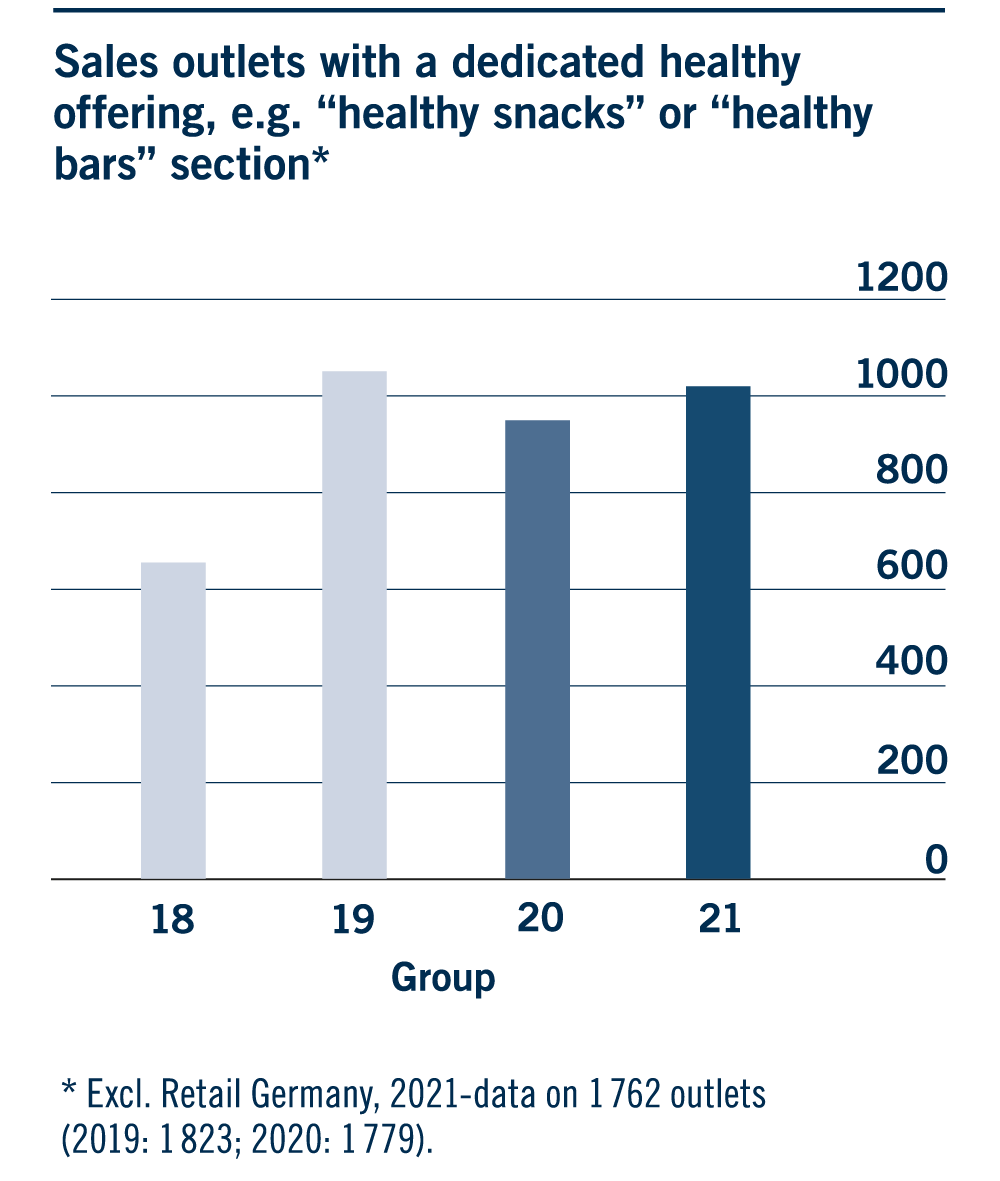 The Food Service formats, in particular, focus intensively on healthy alternatives and adapt products in a targeted manner. The approaches are format-specific and depend on individuals in the design of the product range. The convenience business reflects the Valora Group's new orientation towards more Food and freshness in a growing selection of healthy products for immediate consumption.
Valora is stepping up the Group-wide transition to a healthier product offering in the medium term. Cross-format recommendations for handling additives, sugar, fat and salt are also being developed.
1 Further climate impacts in the supply chain are addressed by measure within the Products pillar.
Audited food safety – the two largest production facilities Oranienbaum and Mainz are certified according to IFS and BRC standards. The production facility in Cincinnati has been SQF-certified.
Successful announced and unannounced audits; renewal of certifications.
Additional annual audits and optimisation of food safety.
Offer adjustments – Valora continuously reviews the offer and acceptance of healthier alternatives. It also focuses on the available portion sizes.
Expansion of a healthy range of snacks to 567 retail outlets in Switzerland (previous year: 525).
Consistent monitoring of other healthy alternatives.
Fresh product range – freshness is playing an increasingly important role in new format concepts and is being further expanded in the context of adapted offerings.
Expansion of fresh products on offer in salads and sandwiches in Retail Switzerland under the new "Ready to go" label – including the launch of new vegan and protein-rich sandwiches. New BackWerk stores with juice bar and additional juices. Adjustment of the BackWerk range.
New concept for the fruit and vegetable offering in avec sales outlets. Further rollout of the juice bar modules at BackWerk.
Sustainable
Development
Goals
Packaging protects products and helps to avoid food waste. However, it is only used once and quickly becomes waste. Avoid, reduce, reuse is therefore the sustainability approach at Valora. It applies wherever packaging is used – in production, logistics, during sale and consumption. Specifically, purchasing and category management at Valora are focusing increasingly on lighter packaging made from sustainable materials with a high recycling component. Sales and marketing also encourage customers to reduce to-go packaging, such as plastic bags and disposable coffee cups.
With the changeover to lighter bottles with rPET content in the Valora's own brand ok.–, the company can save almost 80 % CO2 per plastic bottle and 1.9 kilograms of crude oil per kilogram of PET. Plastic bags – in part due to new regulations – have also been targeted with effective measures. The Valora formats always offer alternatives to disposable cups that are also incentivised. However, the use of reusable cups is currently still low at 2.4 % – the disposable solution is too convenient for many customers. There is also room for improvement in the packaging of third-party products.
Existing efforts will be continued and intensified, especially with regard to reusability. Going forward, Valora will decide on the basis of life cycle analyses for which products and packaging plastics may not be fully dispensed with. Test runs with various providers are planned in Germany to prepare for the obligatory offer of reusable products from 1 January 2023.
rPET bottles – for its own-brand ok.– bottles, Valora uses recycled PET (rPET) and reduces the weight.
Conversion to 100 % rPET for ok.– mineral water and 30 to 35 % rPET for ok.– iced tea and fruit juice. This measure saves around 200 tonnes of CO2 per year.
Plastic bags – a fee is charged for plastic bags at the sales outlets. Where possible, the plastic bags are made from recycled materials. These have a lower environmental impact than paper carrier bags. Customers are also encouraged to use the bags more than once.
Switch to bags made from recycled materials at Retail Switzerland. Change to paper carrier bags at Retail Germany due to regulations in force in Germany.
Switch to recycling bags at Retail Austria as soon as stock has been used up.
Promotion of reusable cups – the Valora formats create incentives to use reusable cups through discounts or free upgrades. Reusable items are offered at the sales outlets and actively promoted. Digitally supported deposit systems enable the return of reusable cups.
Increase of the share of reusable cups used for all warm drinks to go from 2.0 to 2.4 %. After Retail Switzerland and the entire Food Service division: introduction of discounts or upgrades for the use of reusable cups at Retail Germany. Successful pilot of a digital deposit system for reusable cups at Food Service Switzerland and Germany.
Continuous awareness campaigns to motivate people to use reusable cups. Pilot of a digital deposit system at BackWerk Germany. Decision on rollout of a reusable system with decentralised return option for Food Service.
Condiments – the sales outlets are converting to ecologically optimised disposable cups, drink stirrers and disposable cutlery.
Use of single wall disposable cups made from PEFC- or FSC-certified raw materials as well as wooden drink stirrers. Partial conversion of disposable cutlery from plastic to wood.
Establish where the free dispensing of disposable cutlery can be discontinued.
Till receipts – the switch to FSC-certified paper without chemical colour developers enables recycling. The automatic printing of the receipt will also be dispensed with.
New paper successfully tested at Retail Switzerland. Change the default setting for Retail Switzerland to print till receipts only when required.
Rollout of the new paper at Retail Switzerland. Rollout of the digital receipt at Food Service Germany.