Three social macrotrends determine what Valora customers need: Increasing mobility, the changing lifestyles as well as the rapidly growing influence of digitalisation, which has been facilitated by the COVID-19 pandemic in all areas of life. As a clearly positioned foodvenience provider, Valora systematically aligns its business and offering with these trends. Valora is where its customers want it to be, providing them with what they want whenever they want it.
However, the pandemic has suddenly slowed down the development of mobility. As a result, more people work and learn from home and also use public transport less in their leisure time. Government guidelines for working from home and distance learning also resulted in a noticeable decline in customer flows, particularly at highly frequented public transport hubs such as train stations. However, the experience of the past two years has shown that mobility returns rapidly when the measures are eased.
But what role does remote working play once the pandemic is over? Half of people who used trains before the crisis in Valora's core market of Switzerland were leisure travellers (Swiss Federal Statistical Office). Valora expects the situation in this area to recover very quickly once the pandemic situation eases. In fact, the passenger volume is likely to increase even further thanks to new offers for leisure train travel. Training centres and schools are also switching back to predominantly physical operation, so that train journeys by apprentices and students should increase to the usual level of around 12 % of commuters.
The effects of working-from-home are limited
Consequently, the ongoing home office trend can only capture the remaining 38 % of travellers who took the train to work before the crisis. However, not all of them are able to work from home for various reasons. In Switzerland, around a quarter of the working population was already working entirely or partially from home in 2019, and this increased to 34 % in 2020 due to official requirements (Swiss Federal Statistical Office). Valora expects the proportion of people working from home to stabilise at around 32 % by 2023, when day-to-day working life is likely to have largely returned to normal. However, the proportion of those who spend more than half their working time at home should remain stable. At the same time, this will increase the importance of shopping locations in the area, e.g. in the agglomeration and in nearby shopping centres where Valora also has sales outlets.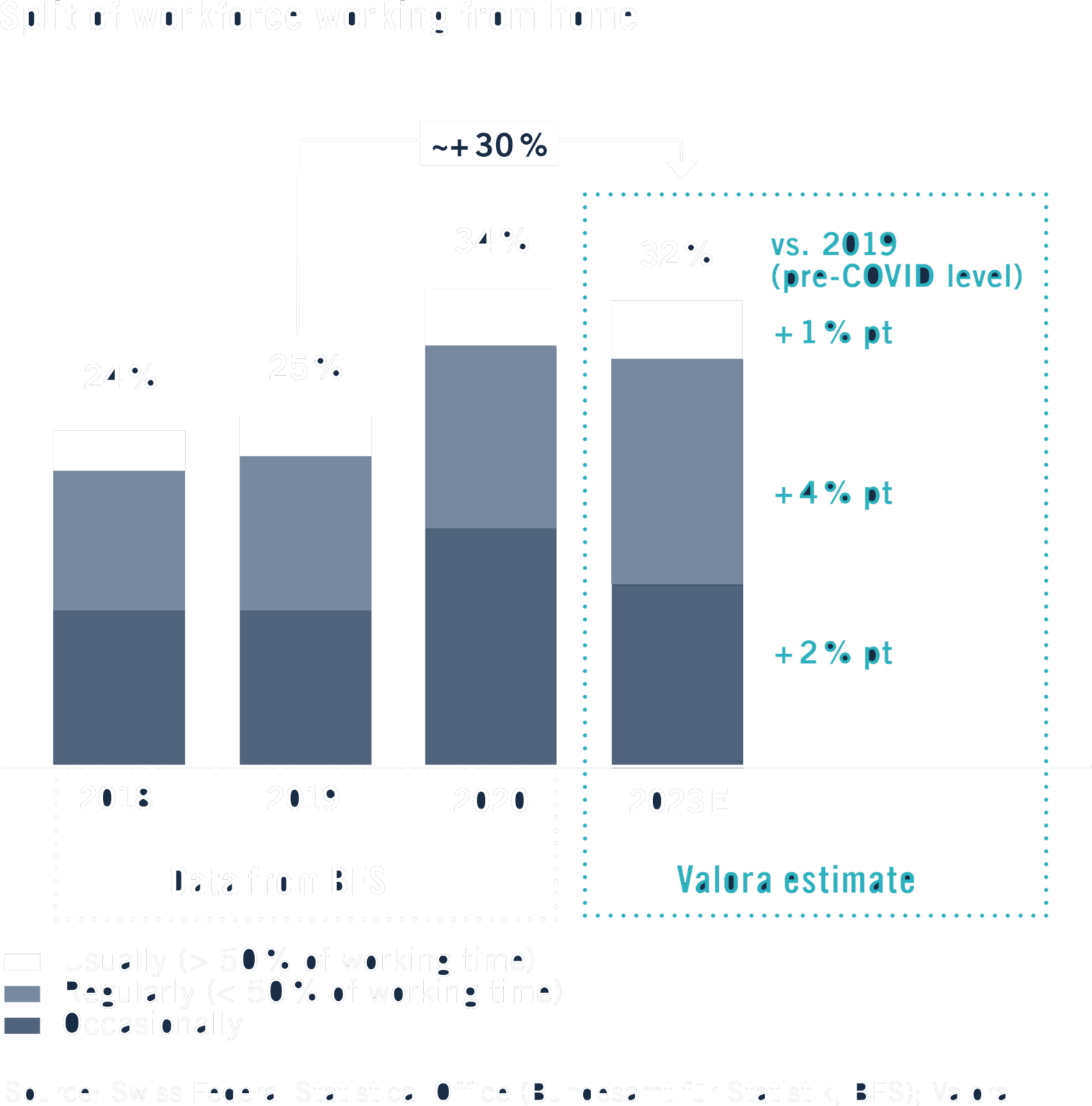 New commuters compensate for the working-from-home trend
Before the crisis, people in Switzerland commuted 6.4 times a week on average. Even though more people will be working from home in the future, Valora estimates that customer footfall at public transport hubs will only fall by around – 5 % in the medium term. However, this decline is likely to be offset by population growth and the associated increase in public transport passenger numbers. The Swiss Federal Statistical Office expects an annual increase of + 0.8 % in Switzerland's population between 2020 and 2025 (+ 1.0 % between 2010 and 2020). The proportion of the population travelling to work by train is also likely to increase by around + 0.3 percentage points by 2023. Additional support can be expected from the planned expansion of the public railway infrastructure, which will also help reduce the high traffic volume on the roads.