Sustainable
Development
Goals
According to the experts of foodwaste.ch, approximately a third of foodstuffs worldwide fail to complete the journey from farm to table. This is problematic both ecologically and economically. Even though food waste mainly stems from raw material processing and consumption, the absolute quantities are also relevant for Valora. Responsibility for the topic is divided into category management, production management, sales and sales outlet management.
In the case of the Food Service formats, food waste mainly occurs at the end of the day because products are freshly produced on site and according to demand. In the retail formats, surpluses may occur for pre-produced fresh products such as baked goods and sandwiches. Valora initially intends to reduce such oversupply by improving volume planning. In the second step, unsold goods are sold at discounted prices. The low residual quantities are used in other ways, such as for the production of biogas.
Food waste in Valora's baked goods production can be minimised by continuously improving processes and facilities.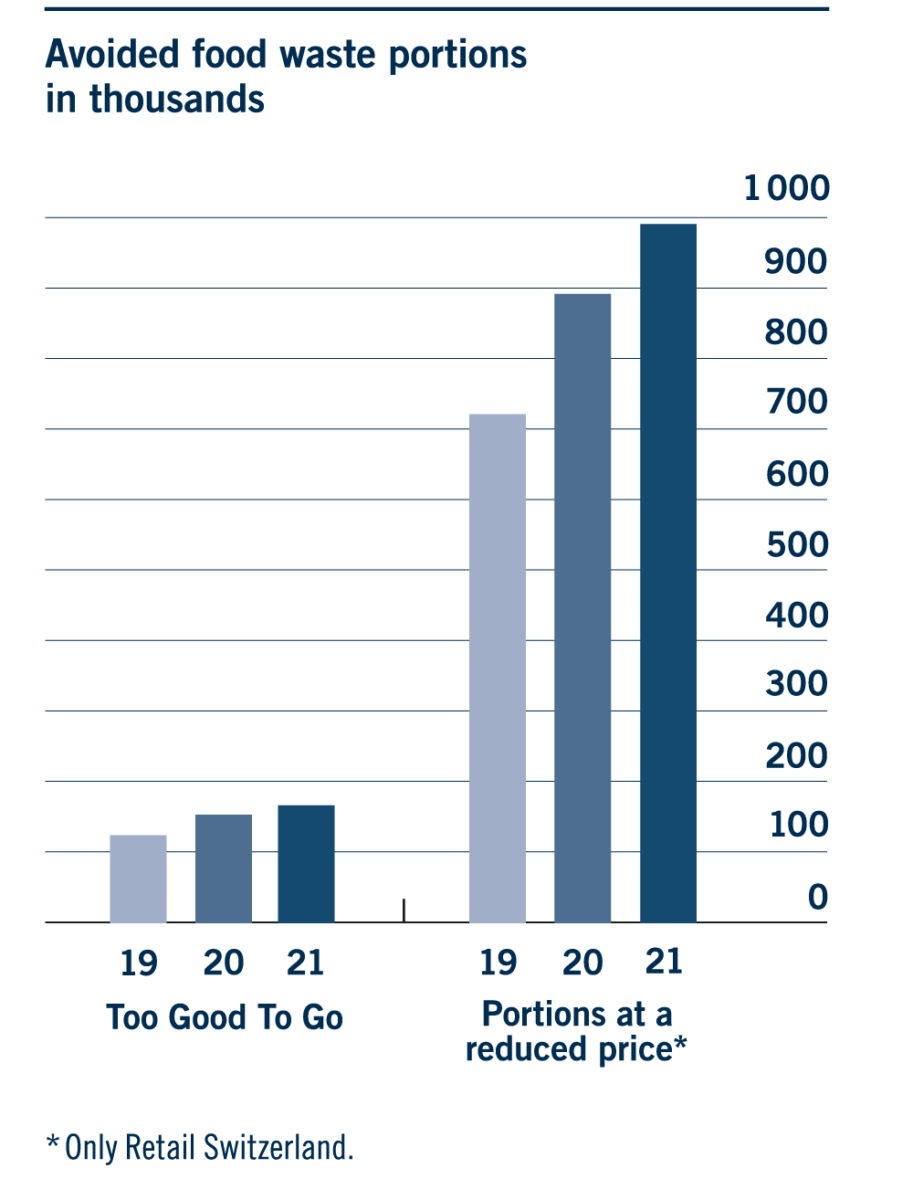 Valora applies the greatest leverage with preventive (redundancy cockpit) and sales-promoting measures (2nd Chance, Too Good To Go) for leftover food. Despite these measures, lower and highly fluctuating frequency during the 2021 COVID-19 crisis led to an increase in the share of food waste at the sales outlets, while absolute volumes fell.
In production, the rejection rate increased due to more frequent plant conversions. This is a temporary effect due to pandemic-induced demand fluctuations.
In 2022, cooperation with Too Good To Go and similar operations will be intensified and extended to other formats within the Valora Group. The redundancy cockpit will also be used more widely.
Optimisation of production lines – continuous improvement management at the production lines in the pretzel production facilities in Oranienbaum and Mainz, Emmenbrücke and Cincinnati have reduced the amount of waste.
Increase in plant conversions to improve production capacity utilisation during the COVID-19 pandemic.
Result: increase in the average Group-wide rejection rate from 5.4 % to 6.5 % per produced item on a weight basis across all production lines.
Continuous optimisation of production lines.
Food donations – people in need are supported by supplying food from the Ditsch production facilities to charitable aid organisations (e.g. Die Tafeln (foodbanks)).
Weekly distribution to organisations in Mainz and Oranienbaum as well as to helpers during the flooding in summer 2021. A total of 4 800 donated portions (previous year: 14 000).
Continuation of food donations within the existing framework.
2nd Chance – baked goods are offered at discounted prices from the second day until midday: 2nd Chance on day two for CHF 2.-.
Rollout of 2nd Chance in 177 sales outlets in Switzerland, including all avec stores and selected k kiosk sales outlets. Total of 104 000 portions sold (previous year: 7 743).
Onboarding of further k kiosk sales outlets in Switzerland.
Redundancy cockpit – the new controlling tool enables a clear and dynamic overview of excess supply at individual sales outlets. This allows the sales and branch managers to take targeted measures.
Rollout in retail sales outlets with an extensive food offering in Switzerland.
Intensification of work with the data and derivation of corrective measures.
Too Good To Go – customers are offered reduced-price food bags shortly before closing time via the Too Good To Go app, a Europe-wide movement to reduce food waste. These can be collected from the sales outlets.
Sale of over 169 000 portions (previous year: 150 000) in 96 Food Service Switzerland sales outlets and around 100 BackWerk stores in Germany. Expansion to other formats postponed.
Expansion of collaboration with Too Good To Go and comparable companies to other formats.
Sustainable
Development
Goals
Energy consumption costs money and produces greenhouse gases that contribute to global warming: these are two important reasons for Valora to minimise energy consumption in pretzel production, sales outlets, logistics and administration.
Baking ovens, air conditioners and cooling devices are the main energy consumers in the stores and production facilities. The refrigerants and the share of fossil energy sources also play a role.1 Energy consumption is the responsibility of the construction departments of the business units, the operators of the sales outlets and the production management.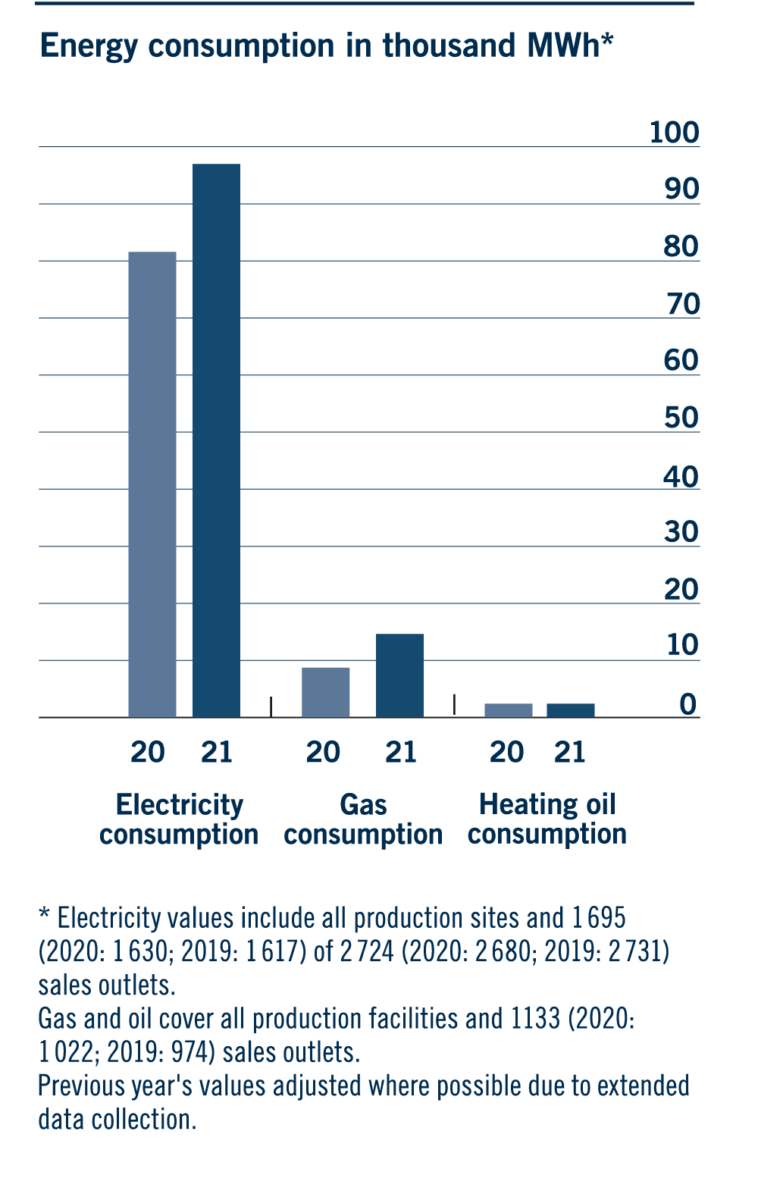 Valora is focusing in particular on the significant savings potential related to cooling devices: modern equipment is consistently used when expanding baked goods production and renovating sales outlets. They improve energy efficiency. Just like the use of doors in refrigeration units with fresh and convenience products as well as in concepts without self-service. Further potential for optimisation consists in systematic management of the equipment and cooling agents.
Group-wide energy consumption rose last year by around 22 % to 112 000 MWh (previous year: 92 000 MWh). This is due to the extended data collection, the expansion of the food offering and the corresponding installation of additional cooling devices as well as the recovery in the context of the pandemic and lockdowns in 2020 (the base year for comparison).
In terms of strategy, the path to climate neutrality will be clarified in 2022 and adopted together with specific targets. Operationally, the entire Group will switch to 100 % renewable electricity over the course of 2022, meaning that the main lever will be in Scope 1 and Scope 2. Furthermore, minimum requirements for new cooling devices and lighting as well as the use of timers in retail formats will be developed and introduced. Data collection is also being continuously expanded to exploit further efficiency potential and to establish a company-wide CO2 balance sheet.
1 Further climate impacts in the supply chain are addressed by measure within the Products pillar.
Energy management system – an ISO 50001-certified energy management system is used in the largest production sites at Mainz and Oranienbaum. The system enables continual data gathering, identification and implementation of improvement measures and monitoring of success.
Successful audit in accordance with the revised version of ISO 50001: 2018. Optimisation of the plants, replacement of the heating system at the headquarters in Mainz. Some delays in the implementation of energy-saving measures due to cost-saving measures.
Planning and implementation of further measures as part of energy management.
Logistics – close cooperation with logistics companies ensures efficient deliveries. At the same time, routes and stops are continuously optimised. Other success factors include increased efficiency, higher vehicle capacity utilisation and improved scheduling at the points of sale.
Saving of over 50 000 stops at Retail Switzerland within two years as part of pandemic-related adjustments. This corresponds to a reduction of more than 20 %.
Transition to more efficient logistics in regular operations at BackWerk in Germany.
The reduced number of stops at Retail Switzerland should also be largely maintained during regular operation. Further optimisation to increase efficiency in delivery logistics over the long term.
Low-emission home deliveries – the online store avec now provides home deliveries at selected locations. The use of electric bicycles means that delivery times of under 30 minutes are possible.
Trial run with electric bicycles.
Conversion of all deliveries to electric bicycles. This saves over 1 kg of CO2 per delivery compared to car delivery.
Modernisation of cooling units – the cooling units in the sales outlets are consistently replaced by more efficient models. Self-service doors are used to further increase efficiency in cooling units with fresh and convenience products as well as in concepts without self-service.
Use of doors according to newly defined specifications.
Ongoing renewal with more efficient cooling units. Development of a cooling strategy to establish minimum standards for refrigerants and energy classes.
Energy consumption analysis in sales outlets – on-site inspections are used to identify main consumers and scalable energy-saving measures.
Inspection of several sales outlets and implementation of the first proposed energy-saving measures.
Further inspections and implementation of the proposed measures.
Data collection – energy consumption at the sales outlets is measured and read in real time to identify potential savings and derive efficiency measures.
Electricity consumption survey in 1 695 of 2 724 sales outlets. Delay in installing measuring systems onsite.
Expansion of data collection in selected sales outlets.
Renewable energies – to minimise the negative impact on the climate, renewable energies are used.
Use of renewable energies at Retail Germany.
Group-wide switch to 100 % renewable electricity.